Valet Parking Service at Frankfurt Airport
the best way to park your car...
Book now and save money ...
Valet Parking Frankfurt Airport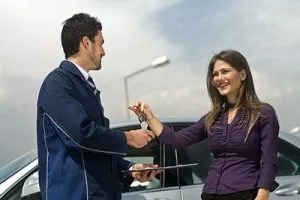 You would like a little more comfort? With Fly Auto Parking you can also book our convenient Valet Parking. "Valet Parking" is an American term for having your private car parked by an employee of a company.
And that is the easy way, Valet Parking works with Fly Auto Parking at Frankfurt Airport: You can book one of our Valet service packages. Doing this, you are free to choose whether you want your car placed on a parking lot or in our car park.
Day of departure
At your date of departures you drive directly to your terminal at Frankfurt Airport. We have already instructed you where you will find our friendly employee to hand over your car. Additionally, our driver holds up clearly visible Fly Auto Parking sign and is also available by phone. In case you are late he or she will wait until you arrive.
Of course, we assist you with unloading your luggage. When being handed over, besides the milage and the filling level in your tank we briefly check your car for possible damages. After that, you hand over the car keys to our driver who takes your car without any diversion to our 8 minutes away parking lot in Frankfurt Niederrad. There the car remains unmoved in your absence – except you want us to perform services that make it necessary to move your car.
Date of your return journey
After having landed safely in Frankfurt please call our service number as soon as you enter the baggage claim. One of our drivers immediately drives your car to your arrival terminal and hands the vehicle over to you as soon as you leave your terminal. When being handed over, you check your car together with our driver regarding its general condition as well as milage and filling level. Afterwards we wish you a safe trip home!
Services
We offer several services, that make your Valet Parking with Fly Auto Parking even more convenient. You want to start your journey home with a full petrol tank? It is our pleasure! Please feel free to ask for our range of additional services concerning "cheap parking at Frankfurt Airport".